Give Your Garden An Overhaul! Hire Our Garden Waste Removal Experts!
Got Waste?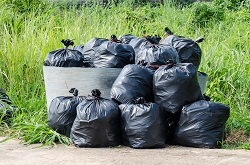 Redesigning or overhauling your garden can be a fantastically fun project to take part in, not only is it good exercise, it's very satisfying when you see the change. What's not so good however is the garden waste that often comes with it. It might be foliage waste or rubble from the new patio, but sometimes a newly renovated garden can look like a bomb has hit it before it's cleared. Unfortunately people often forget about this part and simply sweep the mess to the side, but if you'd rather have it dealt with properly, call in the experts.
Rubbish London is an award-winning garden waste removal service in London
, so call
020 8610 9486
and book an appointment now.
Enjoy Your Garden the Way It Should Be
Gardens should be a place of peace, tranquillity and comfort, and this is pretty tough to achieve if you have a pile of garden rubbish mocking you from the corner. So if you want to reclaim the beauty and tranquillity of your garden, and show that rubbish what's for, call us on
020 8610 9486
and ask for your free quote. Tell us exactly what you need doing and we will be happy to set up an appointment and come and do it.
We want to help London households reclaim their gardens from the rubble
– after all if you manage to find a garden in this town, you've got a duty to keep it looking nice, and we are here to help you.
What's the Big Deal?
You might be looking at that pile of rubbish and thinking about sorting it out yourself, after all, what's the big deal? Why do you need to hire a garden waste removal company? Well in our experience many of the customers who have tried to manage it themselves first, then come to us because they realise that it is 1. Hard and 2. Dangerous. So you are welcome to test it out yourself, but we'd really recommend that you skip that step and move straight on to picking up the phone and calling us in. We are trained in dealing with garden waste clearance so can do it safely and quickly. No mess, no fuss, no danger.

We Know What We Are Doing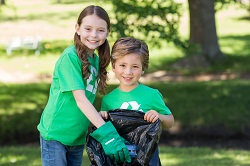 With over 10 years experience in the field of garden waste removal, we certainly know what we are doing by now. But aside from our extensive experience, there are a whole host of other reasons
why our garden clearance services are so in demand.
• We work according to our customer's needs – you tell us what you need and we'll do it. Sometimes we might recommend other options, but ultimately it's still you in charge
• We charge affordable and fair rates – in fact they are the best rates in London
• We guarantee our customers 100% satisfaction – covered by our money back guarantee
• We dispose of all waste safely and responsibly – recycling where possible
• We come to you at a time convenient for you

Don't Let the Garden Junk Beat You
Waste can be a major problem in London, so we want to make sure it doesn't spread to our gardens too. For households who do have garden waste disposal needs, we offer a fully comprehensive and reliable service to help ensure the waste is managed quickly, safely and efficiently. Rubbish London is dedicated to responsible waste management and all garden clearance activities are completed according to the highest safety standards. If you have the need of experts in garden waste disposal or patio clearance, get in touch on
020 8610 9486
and enjoy our low prices, and great service.
We will help transform your garden into the blissful environment it should be.